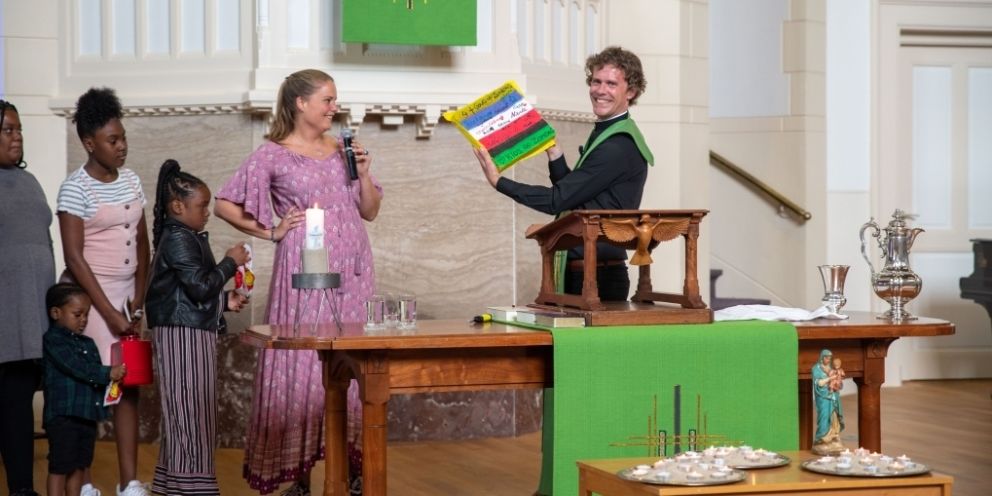 Goud op zondag (Gold on Sunday)
Goud op Zondag pioneering spot has been a fact since last month. We are a diaconal and intercultural faith community in the Old North of Rotterdam.
Gold on Sunday pioneering spot has been a fact since last month. We are a diaconal and intercultural faith community in the 'Old North' of Rotterdam. We are independent, but strongly connected to the work of the diaconal organization Goud van Noord. (www.goudvannoord.nl/) Thanks to this collaboration, people not only see each other on Sundays, but also during the week at Goud van Noord's projects. At Gold we believe that there is a treasure hidden in every person. We mainly look at everyone's options. That is why we often say to each other: 'You are Gold!'
World church
Since September 2021 we have held a monthly celebration in the beautiful Bergsingelkerk in Rotterdam North. As a pioneering place, we have consciously chosen to give the liturgy of the universal Church a place in the church services. That means a lot of burning candles, a classical liturgy with threshold prayer, kyria and gloria and soon also an icon that is blessed by a priest. People who visit our celebrations sometimes went to a Roman Catholic mass or an Eastern Orthodox church in their country of origin, but could not connect with an existing church in the Netherlands. Trust grows from the relationships we build with them through diaconal work. It is nice to see that some of them are regaining the desire to become actively involved in a Christian faith community.
Turn back
At the same time, we also see that seekers, Muslims, Hindus and interested parties find their way to the celebrations of Gold on Sunday. Recently I spoke to a woman who was on her way to a traditional Zen meditation, but halfway through the ride decided to cycle back home. She was very sad that day and did not have the peace in her body to meditate. She cycled past the Bergsingelkerk. She saw the church doors open. This woman had lived near the church for years, but normally there was no church service on Sunday afternoons at 1 pm. The Goud op Zondag beach flag in front of the church entrance made her curious. She decided to step inside.
Relief
Once inside the church, she looked around in surprise. For a moment she thought she had ended up at a Roman Catholic celebration in a Reformed church. She soon realized it wasn't, but then what? She took part in the liturgy and felt the freedom to quietly give space to all her sorrows. That was a relief. After the celebration she told her over coffee that the visit to the church had done her very well. A spontaneous conversation of faith ensued.
Neighbor
Gratefully I helped clean up after drinking coffee. As I emptied the coffee pots into the sink, I hummed a song of wonder. With God it is about that one person that He brings on your way. How beautiful it is if you can become a neighbor to that person in Jesus' name.
Blessed
The wish of us as a starting team is that everyone feels welcome at Gold on Sunday and that we are a place of faith, hope and love. How hopeful it is when that wish is fulfilled in the spontaneous meeting with a local resident.
I love the surprising encounters about pioneering. Also that God's Spirit often works off the beaten track. Of course, pioneering is sometimes searching and toiling, but that does not outweigh everything else. I wouldn't miss the meetings I have now for anything. As a pioneer I feel privileged and blessed.
Bram Robbertsen, pioneer preacher Gold on Sunday
More info: https://goudvannoord.nl/activiteiten/goud-op-zondag/